Let It Out!!! Open Your Mouth, And Speak God's Word With Love And Humility.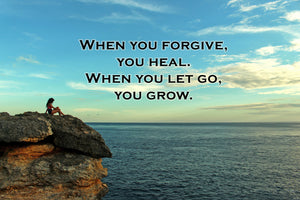 What Has God Placed In Your Mouth To Bring Healing, Deliverance, And Salvation, To People, Even If You Are Culturally Different?
Remember Jonah - Please Read The Words Of The Lord! Jonah 1st - 2nd Chapters. 
Jonah 2 -
1 Then Jonah prayed unto the Lord his God out of the fish's belly,
2 And said, I cried by reason of mine affliction unto the Lord, and he Heard me; out of the belly of hell cried I, and Thou Heard my voice.
3 For Thou had cast me into the deep, in the midst of the seas; and the floods compassed me about: all thy billows and thy waves passed over me.
4 Then I said, I am cast out of thy sight; yet I will look again toward thy holy temple.
5 The waters compassed me about, even to the soul: the depth closed me round about, the weeds were wrapped about my head.
6 I went down to the bottoms of the mountains; the earth with her bars was about me forever: yet hast thou brought up my life from corruption, O Lord my God.
7 When my soul fainted within me I remembered the Lord: and my prayer came in unto thee, into thine holy temple.
8 They that observe lying vanities forsake their own mercy.
9 But I will sacrifice unto thee with the voice of thanksgiving; I will Pay that that I have vowed. Salvation is of the Lord.
10 And the Lord spake unto the fish, and it vomited out Jonah upon the dry land.
WARRIORS, God Has Raised Us Up For Such A Time As This In These End Times.  Are We Running Away From His Call For Reasons That Are Justifiable To Us, Or Are We Taking God At His Word For The Fulfillment Of Our Destiny? We Should Remember, Even If We Are In The Deepest Part Of The Sea, God Knows Where To Find Us. We Will Never Be Able To Hide From God, For He is Everywhere All The Time.
God Chose Jonah To Tell Nineveh, (the great city) That They Would Be Destroyed In Forty Days, But Jonah Ran In The Opposite Direction, Because He Didn't Like The Ninevites: Another Thing - He Knew If They Would Repent, God Would Have Mercy On Them...And He Didn't Want That To Happen To People He Hated. 
Do We Back Away From Obeying God, Knowing He Would Have Mercy On People We Dislike... If They Repented? Maybe, Just Maybe...It Could Be That We Are Afraid Of The Challenges Of Warfare We Would Encounter, When Stepping Out Into The Deep.
When We Come To Know In Our Spirit We Must Crucify The Flesh Daily, And What That Means, It Brings Us To A Resolution And Commitment Process Of Knowing We Must Do The Will Of Our Father In Heaven; Thus Knowing - We CAN Be Strong In The Lord, And In The Power Of His Might To ACCOMPLISH What We Have Been Called To Do For Kingdom Agenda.
In Obeying The Words Of God, We Are Able To Pull Down All Negative Thoughts In Our Minds, Especially The Spirit Of Fear. We Declare And Decree, We Will Not Feel Insecure And Unsure Of The Timing Of Our Call, For The Holy Spirit Inside Of Us Will Prompt Us To Acknowledge To Ourselves And Others; That We Will Never Be Able To Accomplish This In Our Own Strength, But That "We Can Do All Things, Through Christ Who Strengthens Us."(Philippians 4:13). Amen!
After God Made The Fish Spit Jonah Out Of His Belly, He Ran To Nineveh In (1) Day, Which Should Have Taken Him (3) Days From Where He Was, And Prophesied To The People In Obedience. When God Saw The Works Of The People, That They Turned From Their Evil Ways; God Repented Of The Evil He Said He Would Do Unto Them, And Did It Not. Jonah Was Angry God Saved Nineveh! Do We Feel That Way Towards Certain People We Know We Need To Love On, And Pray For?
There Is One Very Important Thing To Remember About Jonah's Running From His Call; He Caused Harm, Disrupted Other People Lives And Lively Hood Because Of His Disobedience To The Lord. Let Us Rise Up, And Obey The Mantle God Has Placed Upon Us To Help Bring Salvation, Healing, Or Deliverance To People, In Spite Of Us Being Culturally Different.
This Is About God Showing His Mercy To An Individual (Jonah, A Jew), A Group (Heathen Sailors) The Heathen World Power (Assyria, A Gentile Nation), And His Chosen People (Israel). Jonah's Obedience To God Impacted Everyone's Life In A Positive And Mighty Way At That Time. It Is Never Just About Us, It Is Always About God's Will In Earth, As It Is In Heaven. Amen, And Amen.
Please Read Also Chapters 3-4 Of Jonah, And How God Dealt With Him Concerning His Anger. Let Us Not Risk Falling Into The Hands Of An Angry God Because Of Disobedience. We Are Not The Only People God Cares About - And It Is Selfish To Think That Way. He Maketh His Sun To Rise On The Evil And On The Good, And Sends Rain On The Just, As Well As The Unjust.
If You Desire To Leave A Comment, Please Scroll Down To Comment Section,  And Press Post Comment. Thank You.
After Making Your Comment, Check Out The Title Below.
1 Response
Leave a comment
Comments will be approved before showing up.