Wisdom Makes Sense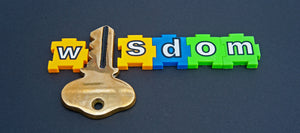 -WARRIORS-
We Should Not Feel We Are Failures When Asking God For Help In Times Of Trouble; We Are Using The Wisdom Of God When We Repent And Ask Our Father For Help. He Is Always Standing Near, When We Call Upon Him Out Of A Clean Heart. Amen!
Wives Remember; The Heart Of The King, Is In The Hand Of The Lord, As The Rivers Of Water: He (God) Turneth It Whithersoever He Will. Proverbs 21:1. (Stay humble before The Lord, with obedience to His Word, pray, and watch God move for the both of you). Amen, Amen!
Warriors, Let Us Make Great Effort Not To Become The Rock In People Lives, But To Be The Bridge - To The Rock, Which is Christ Jesus. Amen!
The Desires we develop In our heart, can make our Spiritual Development Difficult or Easy. [Scripture] Psalm 27:4. One thing I desired of the Lord, that will I seek after; that I will dwell in the house of the Lord all the days of my life, to behold the beauty of the Lord, and to enquire in His temple. Amen!
There is nothing to fear from a foe (enemy) that is already defeated, you just have to stay in the fight until the end. In Revelations 20:10, states - the devil was casted in the Lake of Fire where the beast and false prophet are, and will be tormented day and night for ever and ever. He's already doomed and knows it but wants to take us with him.
A good Name is rather to be chosen than great riches, and Loving Favor, rather than silver and gold. Proverbs 21:1.
Warriors, We are Spiritually Minded, and Not Carnally (fleshly) Minded Beings; 
Therefore, the things we do and say, Should Be Empowered by Our Spiritual Mindedness from Above, Which Leads to Life, and to Peace. Romans 8:6.
"And let Us Never ACT or Form Habits of Being Spiritual Without Power; Which Prevents Us From Being Used Mightily By The Hand of God While Living In This Body. Amen? Amen! Praise God!"
Some Foundations In Our Lives Must Be Shaken Continuously Until You Destroy Them; So That You May Build Upon A New Foundation, With Jesus Only Being Your Cornerstone.
There Is Peace In The Valley With Jesus. Get In The Valley With Him, And Rise To The Top Together, Amen.
Never Go To Battle Against The Enemy With Sin In Your Life; Repent, And Place On Yourself The Armor Of God, Going Forward.  Ephesians 6: 10 - 18. Amen!
Warriors Know - The Goodness Of God, Brings Deliverance.
ABBA Father, I'm Climbing This Mountain With Opened Hands, For There Is Nothing I Hold On To, Because I'm Holding On To You.
"We Get Into The Birthing Of Greatness Position With Our Sorrow, Our Petition, Our Supplication, Our Prayer, Our Steadfastness, Our Worship, Our Faith, And Our Obedience." Amen!
"There Is Always Some Type Of Sacrifice That Has To Be Made, Before Deliverance And Manifestation Comes."
"Ask The Lord For His Will, And Submit After He Answers." Great, Great Wisdom.
If One Should Ever Feel Loss Or Become Disoriented And Not Sure Where To Stand; Remember What Was Done On The Cross, And It Will Point To The Way Home. Hallelujah!

Self-Centered People Are Not Warriors. Selfishness Will Have Them Trying To Keep Their Lives Unruffled, And Undisturbed; And Will Not Go Out Of Their Way To Help Others Unless There Is A Personal Benefit In It, For Them. Amen.
Your Cross Is God's Will For You, Regardless Of The Cost. Taking Up Your Cross Is A Choice You Make, And It Is Not Beyond Your Control To Do It Or Not. (Luke 9:23).
Continual Prayer And Submitting To The Will Of God; Softens Your Heart, And Changes You From Emotional Focusing - To Looking Through The Lenses Of God.
Performance Driven People Burn Out Quickly; But The Spirit Led Ones, Are Always At The Right Place, At The Right Time. Amen!
A Warrior Believes In, And Practice Living Disciplined Lives Daily.   Proverbs 10:17.
A Warrior May Feel What Others Feel About Walking Through Difficult Situations Or Dealing With Difficult People; But Ultimately Will Always Choose To Respond Differently Because Of The Holy Spirit Guiding. Amen! John 16:13.
Warriors: The Saying, "Loose Lips, Sink Ships" Is A Phrase That May Be Emphasized More In This Season. During Our Spiritual, Tactical, And Precise Maneuvers In These End Days, We Need To Use Discernment As To What We Say, Where We Say It, Or Who We Are Saying It To. This Is Spiritual Warfare; And Not An Opportunity To Release Words Of Emotions, Or Frustrations.
The Words We Speak May Be The Truth And Are Righteous...But It May Not Be God's Ordained Timing For The Words To Be Spoken To That Person, Or People. Always, Always, Go With The Leading/Guiding Of The Holy Spirit, With Prayer/ Fasting In All Things Done, Or Said. 
[ It was said, that the Navy developed and trained its people to know how important it was to

not

share vital information concerning where they were going, what their operations would be about, or what was their mission.]
Warriors, what more for us. We are in battle with a real and formidable foe, and his operational domain reaches far, wide, deep, and some of the workers of his kingdom may look and sound just like us. Discern with knowledge/wisdom with understanding, by the Spirit of the Living, Holy, And Righteous God. Amen! (Psalm 141:3-4).
Warriors: Speak To What Is Challenging You Now And Say, "A Day Will Come, When You

(challenge)

WILL BE A PART OF MY Testimony." Amen. Revelation 12:11.
It Is Better To Live On A Corner Of The Housetop Than In A House Shared With A Quarrelsome Wife. Proverbs 21:9
+
When Wisdom Enters Into Thine Heart, And Knowledge Is Pleasant Unto Thy Soul; Discretion Shall Preserve Thee, Understanding Shall Keep Thee. Proverbs 2: 10-11.
+
Get Wisdom, Get Understanding: Forget It Not; Neither Decline From The Words Of My Mouth. Forsake Her Not, And She Shall Preserve Thee: Love Her, And She Shall Keep Thee. Wisdom Is The Principal Thing Therefore Get Wisdom: And With All Thy Getting Get Understanding.Proverbs 4:5-7.

+
Show Me Thy Ways, O Lord, Teach Me Thy Paths. Lead Me In Thy Truth, And Teach Me; For Thy Art The God Of My Salvation; On Thee Do I Wait All Day. Psalm 25:4-5.
                                                                                                                          +
Warriors Of The Most High God Know Courage Comes in The Presence...Not Absence Of Fear. Amen!
                                                                                                                           +
Commit Thy Works Unto The Lord, And Your Thoughts Shall Be Established. Proverbs 16:3.
                                                                                                                             +
Our Obedience To God, May Cause Someone Else To Be Blessed. (Remember, the obedience of Abraham, caused Isaac to be blessed. Genesis 26:1-5). 
+
Let's Not Allow Temporary Emotions, Persuade Us To Make Un-Wise And Permanent Choices.  They Will Only Delay or Abort The Progress or Blessing Our ABBA Father Wants To Bring Forth Into Our Life - In This Season.
                                                                                                                              +
Pray, Keep Believing, Go Through, And Wait On God's Timing. Amen. 
                                                                                                                              +
A Man's Gift Will Make Room For Him; And Brings Him Before Great Men. Proverbs 18:16.
                                                                                                                             +                                                                                                                          
(You Don't Have To Push Doors Open For Yourself; Just Allow The Light Of God To Come Through Wherever You're Standing, And People In Your Hearing Will Remember You, Or Search You Out.) Amen!
If You Desire To Leave A Comment, Please Scroll Down To The Comment Section, And Press Post Comment. Thank You.
1 Response
Leave a comment
Comments will be approved before showing up.