What Face Are We Wearing Today?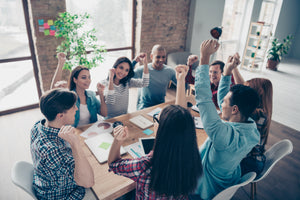 In our growing world and ever-changing society, we are becoming more adaptive to the different changes that seems to be affecting our thoughts, our ideas, the way we live our lives, who others want us to be, and most importantly, how do we see ourselves on a daily base.
Our culture is changing so fast that it seems each day there is a need to assess who we really are in our minds, or what role we are asked to portray at any given time in the society.
As a father, husband, wife, mother, daughter, student, single parent, entrepreneur, professional, car pooler, etc., we find ourselves wearing many hats and faces to match. We try to do it all, knowing well, that something has to give. We have been programmed to believe we can do it all…but is this a correct assessment of who we are at the moment, or what we can do or become?
As women, we have learned to adapt to our environment in many ways, sometimes to the detriment of our marriage, our children, our career/profession, other relational events, but importantly, also in our health and well-being.
We have to understand we are not computers, because even with them, if we command them to do too many tasks at the same time in their own strength, they may shut down and stop working. What about us? Do we come to that point more often than not…but we keep trying to push further, because we know we need to perform according to the face and agenda of our day?
What face are we wearing today? Is it being the sole provider for family, a mother, a daughter, son, professional, carpooler, caregiver, or maybe something not mentioned on this list? Are you happy with your role/position?
How do you feel about the face you are wearing now? Does this face become you the more you wear it, or can you hardly wait until other days when you will need to wear another face, because of the pressure that is attached to it?
Jesus said in His Word: 1) Come unto me all that labour, and are heavy laden, and I will give you rest.
2). Take my yoke upon you, and learn of me; for I am meek and lowly in heart: and ye shall find rest unto your souls.
3). For my yoke is easy, and my burden is light. Matthew 11:28-30.
So why are we acting like a hamster on a wheel that's not going anywhere? But yet in our thinking, we remain on it because we are at least doing something; only to wake up to do it or more, all over again the next day?
Granted, there are many duties we may need to perform, but that does not mean we have to change faces to perform each duty for that day. Yes, the description of the day, or the time may change; but the way we face each situation says a lot about who we are on the inside.
Psalm 27:19 - As a face is reflected in water,  so the heart reflects the real person. (msg)
 As this scripture reminds us, our heart will reflex who we really are, and how we are truly feeling about any situation. If we are sure of who we are in Christ and know without a doubt we have been borne again of the water and spirit (John 3:5); we can face any day because we know we will not be alone - walking out our road to glory. Amen!
When we arise early to start our day in praise, prayer, and thanksgiving to our Lord, we can ask him to guide us by His spirit into whatever is facing us for the day.
"Cast thy burden upon the Lord, and He shall sustain thee; He shall never suffer the righteous to be moved." Psalm 55:22.
 It does not matter what we are facing in our daily routine; whether we pulled it upon ourselves, or something or someone else is pulling the strings; But, when we call on the Lord for help, with Jesus being our advocate interceding for us, He will be there for us.
 

Romans 8:34 - 35: Who is He that condemneth? (it is Christ that died, yea rather, that is risen again. Who is even at the right hand of God, who also maketh intercession, for us. 

"Who shall shall separate us from the love of Christ? Shall tribulation, or distress, or persecution, or famine, or nakedness, or peril, or sword?"
 We, as the body of Christ, are being called to a higher level of Trusting 0ur Lord. In the knowing that we trust God, it has to be in our heart All the time; with our minds made up to go for broke, so to speak, no matter what our days may look like.
Romans 8:36 - "As it is written, For our sake, we are killed all the day long, we are counted as sheep for the slaughter.
 Wearing the name of a Christian does not exempt us from going through some type of persecution, and more so these days because we believe in Jesus Christ. For God's Plan for our Lives WILL come to pass as He wills it, and because it is His Purpose.
Romans 8:28 - "And we know that all things work together for good to them that love God, to them who are the called according to His Purpose. Amen!
So Warriors, What Face Are You Wearing Today? What is the Purpose of God, for that particular Face (position, or leadership) for the Work and Purpose of our Father? Whatever it is, wear it for His Glory: For we have been given power and authority through the precious shed blood of Jesus Christ living on the inside of us,

"And we Can do all things through Christ which strengthens us. Philippians 4:13.
1 Corinthians 10:13, encourages us with this; There is no temptation taken you but such as common to man: but God is faithful, who will not suffer you to be tempted above that you are able; but will With the the temptation also make a way to escape, that you may be able to bear it. Amen!
So Wear The Heart of God In Your Face, Doing His Purpose. Amen, Amen, And Amen!
 Note: As I was writing this, I remember times, when I have struggled with determining what face I would be wearing concerning my grandchildren in making wise decisions. Would I minister to them as their Nana, or from what the Lord wanted me to do about the situation? I love my children, but it is on another level when it comes to my grandchildren. I sometimes feel I have to keep them from making drastic life decisions as they get older, so I jump in without consulting God in prayer.
 Sometimes this decision has cost me in more ways than one, and yet it did not make the impact needed on the thinking of the grands or great grands. I understand they would like to think they know it all, and need no help from us older folk, but we still try, don't we.
I learn every day in some way about going to greater levels of trust and resting in the Lord Doing His Purpose in my life, and the lives of the grands. I don't ever want to feel secure in thinking I don't need help from Holy Spirit, and that I can do it in my own strength by getting it done faster. By the mercies of God, He has given me a measure of Wisdom, but I yet need guidance, and for the right timing.
I keep this is prayer, asking Holy Spirit to guide me in making wise decision using wisdom in this and other matters; but can say, it works out better and timely when I wait, instead of going ahead impulsively. Glory to the Most High God! Amen, Amen, and Amen! 10-30-23.
I Pray This Has Been A Blessing To You In Some Way.
If You Would Like To Leave A Comment, Please Scroll Down To Comment Section; Afterwards, Press Post Comment.
3 Responses
Leave a comment
Comments will be approved before showing up.