Mother Ruth McCarter's Writings, Songs, And Quotes - A Mother Of Great Wisdom From God! (My Mother)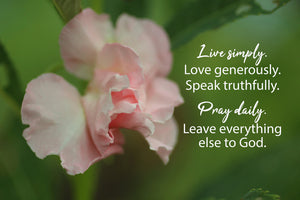 While going through some papers one day, I found this writing that my mother wrote long ago. There wasn't a date written, but after reading it, you will find it is timeless. 
Solving Life's Problem's - by Ruth McCarter
No doubt you, like most people, "have problems," and desire a solution to them. However, desire is not enough. Where can you turn for help? It has been proven that real Love, perfect Love, always help. Love can over-come selfishness, which is at the root of many problems, including family problems and church problems.
Well, it has been written in scripture, that Love is very patience, not selfish using the words - "Me or Mine," but is long suffering, and kind. Love is not jealous, Love does not brag, Love does not get puffed up, and Love does not behave wrong, Love does not look for its own way. Love does not become provoked, Love does not keep account of hurts. Love does not rejoice in evil.
Don't you agree that if family members and church goers practice this kind of Love, most problems would vanish? Do you believe this is from the Bible? I Corinthians 13 chapter makes clear that God in His great Love can solve all mankind's problems by means of His Kingdom, by excepting the Word for everyday living, human relationships, and family life. Why not test it. This book in the bible, will help make your family life happy... So, Hear - because faith comes by hearing. Jesus is a problem solver. Don't mind suffering at times, and your problems can become as a mole hill, instead of a mountain.
Mother Ruth McCarter
Blessings, I thought you would like to read Mom thoughts from long ago.
Here Are Some Of Mom's Favorite Songs And Quotes:
"He's Worthy, To Be Praised; He's Worthy, To Be Praised; Jesus Is Worthy To Be Praised,"
"Pick Up The Fragments, That Nothing Be Lost."
"Jesus Is The Author And Finisher Of Our Faith."
"Have Salt...Within Your Own Self."
"I Got Love Like A River In My Soul."
"Real, Real, Jesus Is Real To Me."
"If I Do Like, My Lord Say Do, Everything Will Be Alright."
"A Liar Shall Not Tarry In God's Sight."
"Follow Peace With All Men, Holiness Without, Which No Man Shall See The Lord. "Without Holiness, We Don't Have The Right Kind of Peace, Love, Joy, Or Happiness."
"Train Up A Child In The Way He Should Go, And When He Is Old, He Will Not 
Depart From It."
"I'm Encouraged To Follow Jesus."
"His Yoke Is Easy, And His Burden Is Light."
"Singing And Praying Is Alright, But We Got To Hear The Word, Except, And Believe Hallelujah, Hallelujah!
"The Lord Is Blessing Me Right Now."
"The Word Is An Anchor For The Soul."
"This World Is Not My Home, I'm Just Passing Through."
"The LOVE Of MONEY, Is The Root Of All Evil."
"Let's Present Our Bodies Holy, Holy, Holy, Let's Present Our Bodies Holy Unto The Lord." 
"Don't Give The Devil A Stick, To Crack Your Own Head With." (don't cooperate with the devil in any of his sins and traps).
" Pretty Is, As Pretty Does."
"Take In Teaching." (don't have a hard head).
"Don't Always Have Something To Say Back."
"It Takes Power From The Almighty God, To Keep Your Mouth Shut, In Many Delicate Situations." Amen!
"Humble Yourself Down, 
You're Too High Minded."
"Fall Out Of Love With Your Feelings, And Don't Believe Everything Feelings Say To You. Fall In Love With Jesus, Because Jesus Is The Way."
 You May Say, "These Are Scriptures And Songs From The Bible," Well, They Are; For This Is How Dad And Mom Raised Us; By The Word Of The Lord, Discipline, Love And Care. They Took Us to Church, And Didn't Leave Us Home Because We Didn't Feel Like Going. I Pray You Enjoy Our Mom's Heart.
If You Would Like To Make A comment, Please Scroll Down Below To The Comment Section.
1 Response
Leave a comment
Comments will be approved before showing up.