God Used Homeless Person - To Save The Life Of Outreach Minister (Testimony)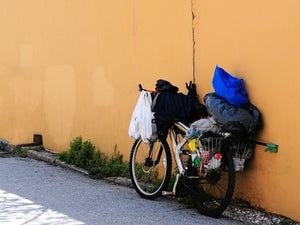 The day started out being sunny and very beautiful for an early morning trip to the next town. I was the dedicated driver because hubby was rehabilitating from a recent surgery, and his appointment was scheduled to be one of the first at the VA. After being in Tampa most of the morning with other appointments, we were finally ready to go home.
Arriving in Brandon, I asked hubby if he wanted something to eat. A KFC store was on the way, so I pulled into the drive- thru. After receiving his order, I pulled to the edge of the road looking both ways so I could make the left turn going east, continuing home. The traffic seemed very heavy at this time of day, but I did see a chance where I could make that left turn into the inside lane. As I was about to make the turn, suddenly there was a person on a bicycle riding directly to my stopped car obstructing my view and motioning for me to roll down my window... and I did. As he began telling me about his dilemma, we heard a very loud boom. In that moment it sounded like something had exploded. The noise was coming from my left, which made the homeless man jumped from fright. After he turned away from me to see what had happened, I could see a man lying on the sidewalk about 50 feet from us, and from what I could see, I knew there was no way he could still be alive.
The Homeless person said he would walk back over to see if the person was alive, and all I could say at that point was "oh, my God! oh, my God! oh, my God! When it was safe for me to leave KFC going towards home, we could see the man up close and knew for sure he was dead. I had never seen a dead body like that before, and it was numbing. He had been driving a Harley Davidson motorcycle which had been ripped in pieces laying on and off the road.
I learned later that there was a pickup truck involved, and that this truck was directly across the street facing me, and made a right turn into the inside lane trying to avoid hitting another vehicle. While trying to avoid hitting the other vehicle, this maneuver caused the man in the truck to cross the median, hitting the man on the motorcycle.
As I began to grasp what had just happened, I realized that if the homeless man on the bicycle had not stopped me and I had not rolled my window down to see what he wanted, I would have been the car that struck the motorcycle guy, and the man in the truck would have had to slam into me and my husband coming into the inside line from across the street. Because of the impact, we could have been killed, or critically hurt. I praised God for His protection over us that day, even though my heart felt sad for the life that was lost, and for his family. 
Let me give you a little background of the significance for God using a homeless person to help save me (minister) from a fiery crash. I have always had a heart for the homeless, needy, hungry, and displaced people in our world. I accepted the call on my life from the Lord when I turned eighteen, but learning how to have the heart of a servant was taught by my parents at a very early age. Our siblings had great examples through the works and deeds of our parents, expressing how we are to love others, and were taught to share and help the less fortunate - even when we didn't have much ourselves.
In 2001, I began serving the homeless under another outreach ministry. I learned many important things under their leadership, which would prove to be of great value to me later. When I felt  comfortable in my spirit, I felt the call of God to start out on my own. Because I trusted God, I knew He would provide provisions... and He did. I started feeding and clothing the needy in the City of Tampa in 2003 at different locations, and continued for about three years. Ultimately, I made Brandon, FL my home base.
A large box style truck was donated to the ministry by a close family member so we could transport the provisions for the hungry and needy wherever we needed to go. This was a tremendous blessing to the Ministry. Different managers from Daily Work, Daily Pay Shops gave us permission to use their parking lots on Saturdays to serve the homeless and needy. We served home cooked meals, provided donations of clothing, shoes, small household items, hair cuts, toiletries, and any necessities the homeless and less fortunate needed.
During the Thanksgiving and Christmas holidays, we were given access to the Boys and Girls Club by the First United Methodist Church, which is now called New Hope United Methodist Church. The ministry was richly blessed by their offering of the Club, and we were also given an abundance of donations by other United Methodist Coalition Churches.  Many other church groups, organizations, clubs, and individuals in the community came aboard to help in service to the less fortunate.
During the holiday outreach activities, we were able to feed between 800 and 1200 men, women, and children with a five (5) course delicious meal. We also gave out offerings of over 4500 pieces of clothing, shoes, toys, toiletries, blankets, small household items, toys, etc. Hair cuts were provided, blood pressure readings were given by medical personnel, along with other resources. There was an arts and craft table, and outside play area for the smaller children. A prayer room for anyone needing prayer/counseling was set-up with pastors and other leaders of churches in the surrounding areas.
Any person could volunteer for the Holiday Outreach Activities, but had to agree to attend a mandatory training class. It was very important for everyone serving to know and understand about what it means to have the Heart of a Servant, and to also know how to diffuse any differences that might come up.
This is just a synopsis of how the Ministry was started, and how we were able to serve thousands of hungry, homeless, needy, and displaced people of our communities. We never limited our serving to fair weather, we served in both rain and sunshine, until we were blessed to moved the ministry into a 13 room building to serve more people. We made lasting relationships in the community because of our genuine love for the people of God, and it is no wonder God would reciprocate that type of love, through a homeless person - to me. I love what God has ordained through me, to be a help to those less fortunate. Hallelujah, and Praise the Lord Most High!! 
If You Would Like To Leave A Comment, Please Scroll Down To Comment Section, And Press Post Comment. Thank You.
1 Response
Leave a comment
Comments will be approved before showing up.
---
Also in Healing, Deliverance, & Prophetic Insights