The Warriors' Destiny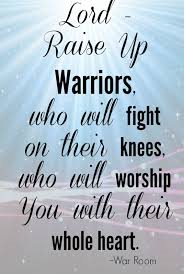 Warriors, we have everything to look forward to, and nothing to hang our heads down in despair; so let us lift our heads and hands, and give God glory for what he has Called, and Anointed us to do, and do it gladly.
We are Warriors, Gatekeepers, Watchman on the Wall for our Lord, and we are called to stand in the gap for People, for Nations, Countries, and there is no distinction between color or creed, because we are led by His Spirit.
Count it is as joy when we are praying, interceding, fasting, and believing for the hand of God to move, even when we are going through our own trials at the same time. We are more than conquerors in Christ Jesus.
These are dark days Warriors, great and hidden deceptions that may look right at first glimpse; but look and hear again through our Spiritual eyes and ears. We are Warriors for the Kingdom of God on a mission, working on and out our Destiny through Christ. We are as Sheep going to the slaughter daily. Amen, Amen! 
If You Would Like To Comment, Please Scroll Down Below At The Comment Section, Thank You.


Leave a comment
Comments will be approved before showing up.